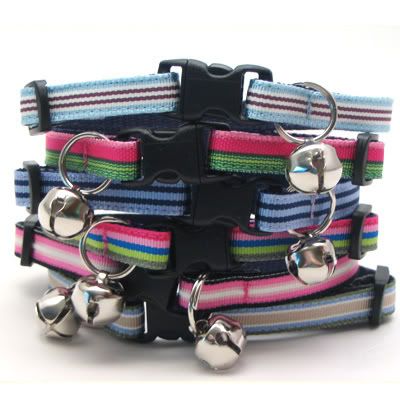 Website: Lindsay Designs
Where are you located? Chico, CA (about 90 miles north of Sacramento)

What do you create?
Accessories for people and pets. Pet collars, leashes, and harnesses made from ribbons, matching grosgrain ribbon belts, silk flower pins and hair clips, purses, wallets, plus a few other odds 'n ends (I'm a dabbler, yes I am!)

When and why did you decide to start your business?
It started mainly as a whim - I made a spiffy ribbon belt for myself, and decided pretty quickly I could sell them (if you knew me as a child you wouldn't be surprised by this - I've been pawning my handmade goods on other people since the 4th grade). I started selling a few belts here and there on eBay, and it slowly grew from there. Anyone who has sold on ebay knows how frustrating it can be, and I soon realized that a website was a better venue for my goods.

How do you get the word out about your business?
I've been very lucky so far, and have not paid for much advertising. I get a lot of word of mouth referrals. It must be true that dog people run in packs!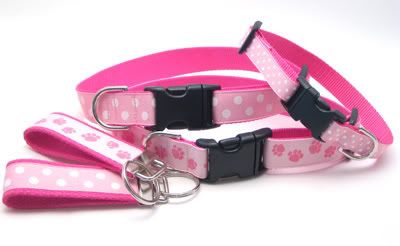 Where do you see your business in 5 years?
Just about anywhere. I'll be graduating from college this spring, and I'm still struggling with the decision to get a real job or to go full time with my business. While I'd love to go full time, I do love graphic design as well and want a career in that eventually. I am worried that taking a few years off to pursue Lindsay Designs may hurt that in the long run. Also, I'm going to be putting my boyfriend through law school (can you say, yikes!), and am really unsure if I can bring in enough money on my own to do that. In 5 years, depending on what I've chosen, my business could be wildly successful and I'll be living in a mansion in Malibu (haha), or I'll be working a 9-5 design job somewhere and Lindsay Designs may or may not be around. Only time will tell!

Where do you get inspiration for your projects?
My ribbons. And I have a LOT of them (some may call it an obsession). Usually, when I want to make a new purse or something, I take my current favorite ribbon and go from there... with coordinated accents and matching fabrics and such. I love color and am always looking for new combinations. I never make anything that I don't like myself... which I think is pretty accurately reflected by the things on my site.




Which of the tools you use is your favorite?
My sewing machine. Lindsay Designs simply would not be without it! Oh, maybe my seam ripper as well. (teehee).

What keeps you motivated?
Knowing that I could be working behind the counter at some crappy mall clothing store. If I am going to have a part-time job to put me through college, I can't think of anything better than this! I also love seeing the photos people send me of their pets wearing their collars. I can't help but smile every time. Little things like that keep me wanting to make more.




What advice would you give to someone starting a creative business?
Start small. Don't get overwhelmed. Don't underprice yourself. I've managed to stay in the black the entire time I've run my business... just by starting out so tiny and only spending money that I had. I'm not one to take risks, I guess! I'd also say don't get discouraged. Starting small means just that - you're not going to be making millions right off the bat!
Little Extras


Where did you take your last vacation?
Napa, CA. It was a surprise for my 21st birthday last spring, and my mom (the schemer that she is!) planned an amazing getaway with my boyfriend, aunt, and grandma. We stayed at a precious bed and breakfast/cooking school in Calistoga. I'm drooling just thinking about it! (I love to cook. Can you tell?)


Can you recommend a good book or great music?
"Never Let me Go" is a great read and really makes you ask what really makes us human. Music wise, I highly recommend checking out Jackie Greene - he's a great folk/blues/rock and roll artist.


Who is your favorite indie designer/artist?
Tough questions! I have met so many amazing and talented people through our little community, I couldn't bear to pick just one!