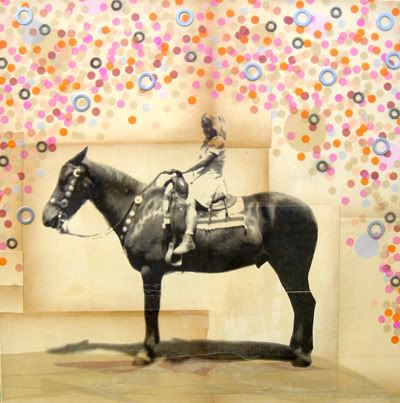 Website: Michelle Caplan
Where are you located? I live in West Hills, CA with my husband.

What do you create?
I am a Mixed Media Collage Portrait Artist. I create one of a kind artworks from vintage photographs. I also do commissions from clients own photos. I do a lot of wedding portraiture, child and baby portraits, pet portraits and more. I use a lot of vintage ephemera, book pages, papers, tissue papers, etc in the background of my pieces. These papers help to illustrate the story of the subject of the piece.

From my collages I have also created other products which feature the work, such as bookplates, magnets, lip balms, buttons, prints and note cards.

When and why did you decide to start your art business?
I started creating these portraits in June of 2004. I wanted to do a portrait for my father for Fathers Day that year and had a distinct image in my head of what I wanted the piece to look like. I translated that vision onto a canvas and nervously presented it to my dad, not knowing what the reaction would be. He loved the piece and that gave me the confidence to continue creating. Slowly but surely family friends started inquiring about commissioning their own pieces. About a year later I was introduced to blogland, and the online craft community, giving me a way to present my work and nothing has been the same since!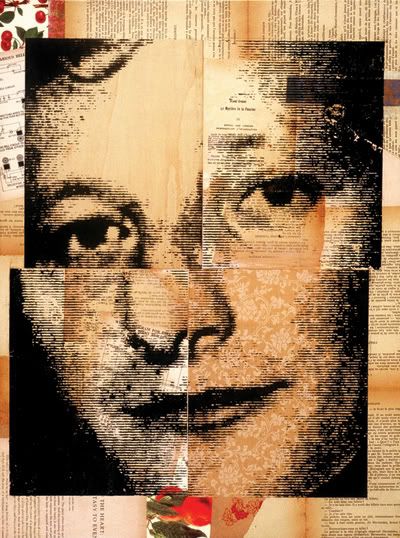 When you first started out how did you get the word out about your artwork?
At first, word of mouth through family and friends was my best marketing tool. Being a full time artist was never anything I thought I could do. I was encouraged to continue creating by my husband and family.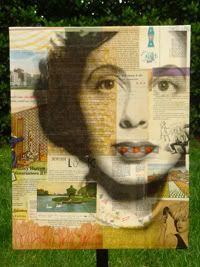 When I first started selling to strangers, I had my work on ebay, and was lucky enough to meet very interesting people there. Holly Becker, from decor8, was one of the first people to buy one of my pieces. She introduced me to blogging and to the online world beyond ebay. Holly encouraged me to begin my own blog, and since March 2006 I have been posting about my life and work. The community is so encouraging and supportive of each other, I am constantly amazed!

What marketing avenues do you use now?
I take advantage of all the online resources I can find. I think the online crafting community has grown as it has because a lot of very talented and driven individuals have banded together to help each other to be successful. There aren't many industries where you will find this kind of solidarity. It is important to have as many tentacles out in the web as possible. (Any of my crafter friends will laugh reading that. I am all about the tentacles!) I am an avid blogger and try to post once a day, if possible. I also have a second blog, Creative Swoon where I write about other artists and how their works inspire me. I try to utilize all of the popular sites, like MySpace, to meet people and give people an opportunity to see my work. I love Flickr! It is a great online community full of inspiring imagery and artists. Etsy has a great community of people who are all creating one of a kind works in all different kinds of genres, yet we can all relate. Once someone starts clicking around, you never know what they may find.

Where do you see yourself professionally in 5 years?
In five years I would love to be doing some kind of teaching. The idea of teaching is scary to me, but I feel like the experience would be amazing. I like the idea of that kind of challenge.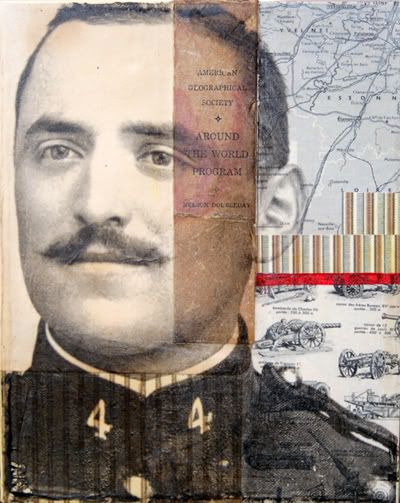 Where do you get inspiration for your projects?
I am inspired by the faces of the people in the photographs. A lot of my original works are photos that have been found at flea markets and estate sales. I take these photos that I find and create my own story for them. Any particular piece is a narration of that persons life, or of a moment they may have lived. The eyes tell a great deal. It is definitely up to my imagination who these people end up being on canvas, and the endless possibilities are inspiring

Which of the tools you use is your favorite?
I covet my exacto knife. The sharper, the better.

What keeps you motivated?
Knowing how lucky I am to be able to do something that I love. Many people never get the opportunity to start clean and really do what they love. You cant take that for granted.
(The comments and emails I get on my website are highly motivating too!)

What advice would you give to someone starting a creative business?
Dont be shy! And network as much as possible! In the last few years there have been so many advances in our abilities as artists to be self sufficient and not have to rely on galleries and managers, etc. to get the word out about our work. The internet is an invaluable tool. Make sure that you use it in every way possible to shout about your works. Be fair and honest, and good things will come!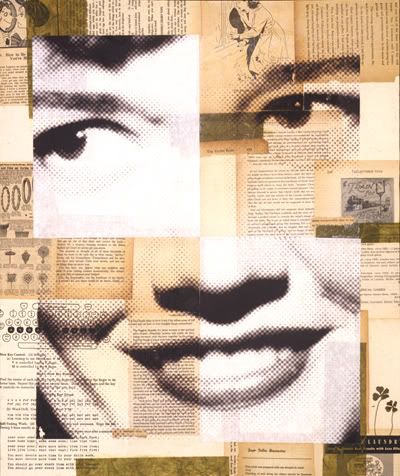 *****
Little Extras

Can you recommend a good book or great music?
I am hooked on the KT Tungstall CD. It just makes me happy.

Who is your favorite indie designer/artist?
I am really lucky to have very talented friends whose work makes me feel really decadent! I am constantly inspired by what they can create, and how their work effects my mood and life. My 2 favorites right now are Bathchick , who makes the most incredible bath bombs I have ever used, and HannahMade whose earrings make me feel feminine, which is nice when I get to dress in clothes not caked with glue!