Website: Jill Bliss and Blissen
Where are you located? Santa Rosa, one hour north of San Francisco.

What do you create?
Mostly limited edition paper goods and fabric accessories from found or recycled materials. I'm especially obsessed with depicting little beautiful overlooked details or colors found in nature, helping others notice and appreciate them.

When and why did you decide to start your business?
In 2001 i moved from New York back home to San Francisco and i couldn't find a job. It was during the dot-com crash, there were no jobs yet the rent still had to be paid. So I began to make jewelry and accessories from the fabrics I had in my apartment, and sell them on my website, my partner's record label website, at indie-pop music shows and to local shops.




How do you get the word out about your business?
I like to participate in sales events - it's the best way to get instant feedback on the things you make and meet other great makers in person!

Where do you see your business in 5 years?
I hope to keep doing what I'm doing now, and continue to collaborate with other designers and artists. Every year since I began blissen I've been able to work a little more on blissen things and a little less on things for other companies. Five years from now I hope I'm working on blissen full time!

Where do you get inspiration for your projects?
Just daily life, really. For instance, I'm enthralled with the redwood tree in my new front yard - already in the past three months I've watched it cope with several heat waves and now the change to cooler weather. Two weeks ago it dropped heaps of pine cones and needles in preparation for winter - our yard smells divine. and now there's little buds forming on the ends of the needles still on the tree. Also walking my dog today, I found a pod dropped from a magnolia tree. It has the most outrageous shapes, colors and textures.

You work in several mediums. Which is your favorite?
I oscillate between fabric and paper, they've always been my two favorite materials to work with. Sewing and drawing are very similar as well, and great to back and forth between.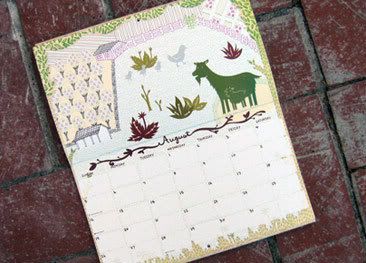 Which of the tools you use is your favorite?
Because i have two favorite mediums (paper + fabric) I equally love my pens and my sewing machines.

How do you pick which project/idea you will produce to sell?
I don't really plan what I'm going to make ahead of time, it depends on what materials I've found to work with, customer requests, or something I need myself!

What keeps you motivated?
Always trying to improve and evolve my work, plus coming up with the rent each month.

What advice would you give to someone starting a creative business?
Start small and go steady. Don't overwhelm yourself trying to keep up with other people's accomplishments. We're all unique and have our own areas of expertise. Do your best to learn what yours are and go from there. Reach out to others in your community making similar things or that have similar ideas. Your peers are your best source for help and support!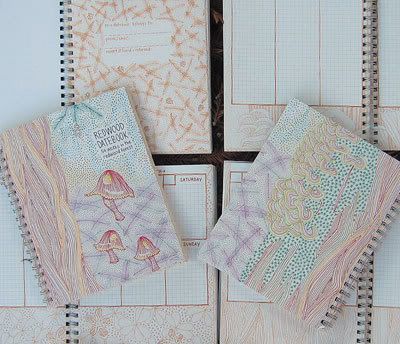 Little Extras


Can you recommend a good book or great music?

During the busy season I don't have time to read books, only magazines, but it's on my list to reread

Critical Path

by Buckminster Fuller in January.


The new Mahogany album is on constant repeat this week, as well as an old band in my cd collection, the Brittle Stars!


Who is your favorite indie designer/artist?
Oh gosh I can't pick just one! Saelee Oh, Souther Salazar, L
otta Jansdotter, Seamripper, Lekkner, Lisa Congdon, Small Object... the list goes on
and on and I sincerely apologize to everyone I haven't m
entioned! I appreciate any designer/artist dedicated to advancing their own unique vision and point of view.


What is your definition of a perfect day?

That really depends on what I've been doing lately! Sometimes a "boring" day of cleaning and organizing my studio is the perfect thing (like today), sometimes an insanely packed day of running around exploring boutiques with a friend is what I need (like last weekend).


When you have some time to relax what do you do?

Go for a walk: in the woods, on the beach, or around town.
Thank you Jill!