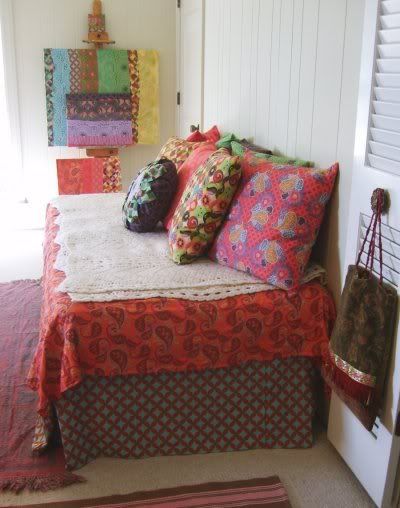 Web site link: Anna Maria Horner
Where are you located? Nashville, Tennessee

What do you create?
I create design collections for the home, gift and textile industries. My artwork is branded by manufacturers and translated into many categories of product from fabric collections and ceramic tabletop items to gift ware and paper napkins! A lot of what I am focusing on now is in the fabrics and sewing industry as I have had such a great response to my first collection of fabrics , Bohemian, for Free Spirit Fabric.

When and why did you decide to start your business?
My very first business, a boutique called Handmaiden, was started just months after my college graduation in 1995 where I designed and made clothing under my own store label. I always loved fabric, sewing, design and thought I should tackle it head on while I was young and had the guts for it! It expanded into handbags, accessories and hand painted items, which I took out of the retail venue and into the wholesale market. Through a very good response of the lines but my lack of wanting to manage a wholesale goods company, I turned towards freelance product design around 2003. Since then I have been working with over 20 manufacturers to turn my concepts and art into delightful products under my own brand, Anna Maria.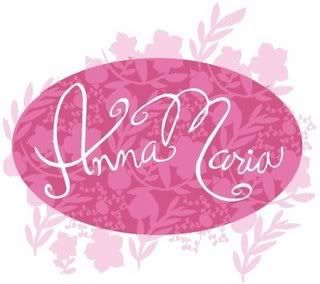 How did you get the word out about your work when you first started?
Designing for the gift ware industry is extremely competitive business and becomes more crowded with new artists everyday. I put together a website for my business initially, started showing annually at a trade show called Surtex in 2004, and have created a blog just this September to give people insight into my studio happenings. I built my client list mostly by mailing portfolios and making cold calls to art directors of different companies that I thought my art would be a good fit for. Now that I have a great group of people to work with, I just update those clients periodically with new art.

Where do you see your business in 5 years?
I hope to be doing just exactly the same thing I am now but maybe with a handful of employees that can facilitate the deeper reach I would like to have with my product lines. For instance, the fabric lines I offer now would be beautifully enhanced by also offering home sewing patterns for the new generation of sewers. There is a real turnover of exciting things happening in the craft/sewing/knitting industries and I am very excited that my artwork has taken me back into that realm where I started with clothing design. I think that I'll continue with an emphasis in the textile industry and with any product categories that are a good crossover point from that such as personal and home accessories, table linens, aprons, bedding and the like.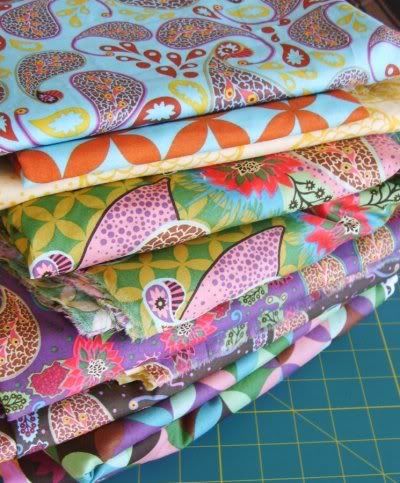 Where do you get inspiration for your projects?
It may sound typical, but truly everywhere. I like odd combinations of mismatched found things just as much as I like the more obvious ones too. I am definitely inclined towards the bold, vibrant, crowded and colorful. Which most likely comes from my own life as a mother of five who works out of a home studio! Crowded and colorful is my lifestyle.

Which of the tools you use is your favorite?
Hmmm. My eyes.

What keeps you motivated?
I'm motivated by knowing that there are so many looks, patterns, design experiences yet to be made or realized. Also seeing how there are endless combinations of things that excite me visually constantly forces me to try something else. In a sense I think I am always clarifying my point of view for an audience, always trying to share a look or a palette that is exciting to me. I think, and hope it keeps my work fresh and keeps everyone else and myself from boredom.

What advice would you give to someone starting a creative business?
I would urge anyone to not worry about what you may consider wasted time with an endeavor that doesn't have a guaranteed success. If it interests you and you think you have something new to bring to a given craft or industry, do what you have to do to dabble in it. It will only help you focus in the end on what works. Sometimes the most off the wall endeavors or projects will in time bring you to what you were meant for and may not have been obvious to you in the beginning.

What is your next big thing?
On one hand, just waking up to another day of balancing family and a design business is my next big thing. That's true everyday! But, on the larger scale, my second line of fabrics, called Chocolate Lollipop, will debut in the Spring from Free Spirit, and a collection of self-published sewing patterns will hopefully follow soon after.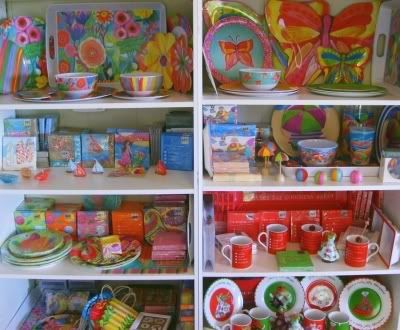 Little Extras
Can you recommend a good book or great music?

Any of the Ben Harper albums could be heard streaming out my studio window as I work.

Who is your favorite indie designer/artist?

Hmmm. Depends on the category, but Heather Bailey is my new friend and fellow cohort in fabric design and just a beautifully creative woman.
What is the best gift you've ever received?

My family, its given to me everyday.


What is your definition of a perfect day?
A perfect day starts with 2 cups coffee and toast, a relaxing talk with my husband as the kids file out to their respective school buses, ample quiet time in the studio painting new work or editing sampled collections, maybe a phone chat with my sister as I work, a family dinner where everyone shares their best part and worst part of the day, and family prayers before bed thanking God for all for the above!
Thank you Anna Maria!!