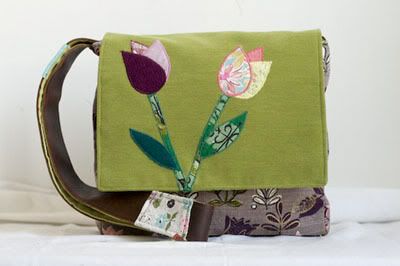 Website: Studio Stelle
Etsy store: studiostelle.etsy.com
Where are you located? Toronto, Ontario

What do you create?
I make limited edition handbags and satchels with applique created from a mix of new, vintage and reclaimed fabrics. I make the occasional wrist cuff or sash, too.

How did you come up with your company name?
The short answer: Stelle is the Italian word for "stars"; it's the last word of my favourite poem. The long (and far nerdier) answer: When I was in school, I did my senior thesis (and a number of other papers) on the links between text and textile – story and cloth. For me, poems and stories are woven, just like a piece of fabric and, in turn, fabrics have their own story to tell. I spent a lot of time exploring this image in Dante's Divine Comedy. Stelle is the last word of all three parts of that poem.

When and why did you decide to start your business?
A little over two years ago, I made myself a bag with a little red bird on it. I was out shopping with my husband. We were in a shop and the owner was very complimentary about my purse -- and asked if I could make a few for her. I said "Ummm…okay, maybe" at which point she went into her back room. My husband looked at me: "What are you doing? Go get her card!" and practically shoved me after her! I was terrified because that purse came together out of sheer will – not any kind of sewing ability. But I did it, and they sold, so I did some more, and some more…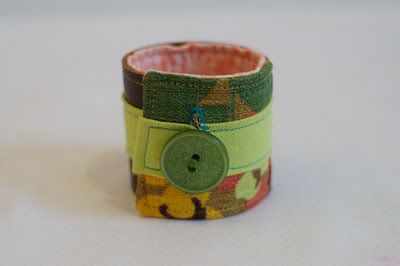 Which is the biggest lesson you've learned from owning your own business?
It's really important to have a plan; to know where your business is going so you can make decisions. Making the leap from side project to wholesale is a big commitment of money and time and having a plan will help you move forward with confidence. Another lesson: sleep should not be your biggest priority.

Where do you get inspiration for your projects? As I mentioned above, I'm really inspired by the stories that fabrics have to tell. I collect vintage pieces and scraps from my friends, so my appliqués actually tell me (and, usually, only me) stories.

Colour is a big inspiration. As I walk around Toronto, I collect in my head different colours and colour combos that I see. I then try to work them out in the appliqué. I have a lot of scraps, so I just haul them all out and start playing!

In the past, I've sort of been known as the birds and flowers girl. Lately though, I've been looking at a lot of old Japanese block prints and cloisonné. I was inspired by those wave prints for my shapes and then the enamel pieces for the crazy mix of patterns.

Which of the tools you use is your favorite?
My favourite tool is a sewing gauge. It's really useful for getting a consistent width on long pieces (like straps). I also really love fuse-a-knit interfacing. I use it on the back of every fabric I appliqué. It keeps even the most finicky fabrics from falling apart AND you don't end up with that crinkly look.

What keeps you motivated?
I'd love to be able to motivate myself, but really what gets me working is having a workspace that I share with someone else. I used to work at home and was really unproductive. It's not so much that I'm accountable to my studio mate, but when she's there working, I'm more likely to get off my butt and go in as well.

How do you get the word out about your business?
Hmmm ... I haven't been so good about this lately because my day job is pretty hectic. I'm not that great at marketing myself, but the majority of my biz is wholesale so the shops do the marketing for me, really. They really earn their 50%!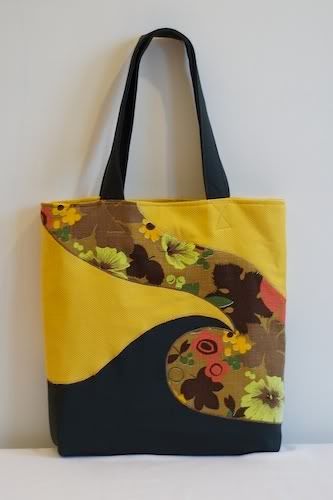 Where do you see your business in 5 years?
In five years, I'd really like to work at my business full time. Right now I'm working on some clothing, but it's taking a while - I'm a real perfectionist and everything takes me ages. I'd like to have the clothes all worked out sooner than five years though.

What advice would you give to someone starting a creative business?
Know how much your work is worth and get what you deserve. It sounds crass, perhaps, but I used to spend a lot of nights working frantically to get orders out and making almost nothing. It sucked. You may enjoy your work, but for the sake of both rent and sanity, you've got to make money.


Little Extras

What's your favorite quote?
Don't really have one, but if I did, I'm sure it would have been said by Dorothy Parker.


Can you recommend a good book or great music?
I've been really into a group call P:ano recently - they're from Vancouver. When I first heard their album, Brigadoon, I thought it was maybe a bit cutesy, but I'm so addicted now!


Who is your favorite indie designer/artist?
That would be my studio mate, who designs a line called Nude. Her clothes are very simple, but made of awesome silks, jersey and raw denim and then embellished. It's really fantastic.