Website: Look What I Can Do
Where are you located? Seattle

What do you create?
I create plush called Love=Creatures. They are plush animals or monsters that are made out of new & vintage cotton, wool or fleece. All the patterns are designed, sewed and detailed by me. I really like to take a modern simple shape and bring it to life with complicated or simple fabrics. Sometimes it's the simple combination of shapes and colors and other times it's all about the print. I call them Love Creatures because all Creatures need love. I put a heart somewhere on each one to remind people to love. I intend on increasing the amount of love and joy in the world through plush. The symbol of the heart is very powerful to me and I also really appreciate it's connection to pop culture. Modern fabrics are my favorite but I also dig folk and 30-40's fabrics as well. If I was let loose at the Marimekko factory I would be in heaven. I would love to work for them designing fabric. I would also love to go to any Scandinavian country because my passion is very strong for vintage modern fabrics and there are some amazing ones from that part of the world. I spend a lot of time sewing and when my daughter goes to kindergarten I plan on expanding what I make. I would love to do more with my photography and a whole lot more sewing. I have so many ideas but I am a horrible time manager…well at least I think I am a lot of my friends will tell you different.




When and why did you decide to start a business?
When I became a mother I was very inspired to create unique toys for our daughter. So I started making plush creatures for her when she was about 1 or so she is now 5 years old. My daughter started calling them Creatures when she was around 2 years old and I just added the Love to it. She is my biggest inspiration and helped inspire me to create all my Love=Creatures. I continue to be inspired by her ability to express such pure and genuine emotions. So I sewed sooo many that I decided to try and sell them and my friends kept telling me I should. So I emailed a bunch of shops in town and made appointments and just did it. A good friend of mine, Rose, inspired me to start. I was in retail forever and was in management so instead of doing if for somebody else I did it for me. I was surprised how easy it actually was. Then in December of 2005 I found Etsy. After the Holidays I opened my own shop on Etsy and it has been a really nice fit and great experience. One day I would love to have my own website but time and finances don't really allow it right now.

How do you get the word out about your business?
I got on Etsy and started to network with other sellers and I asked some of them to trade with me. I was really nervous because I have mid-western roots and asking to trade is not natural for me but I did it and it really helped to show people what I do and what I am about. I also learned that I am a lot better at networking than I ever thought I was and believe it or not that was a huge defining moment in my life. I later made business cards and gave them out and I have a friend that has networking parties for women and we all get together potluck style and share about what we do and who we are. I was a nervous wreck at the first one but now I really enjoy going. It's nice to see women putting themselves out into the world through their art and it is amazing to see what everyone does and how.




Where do you see your business in 5 years?
Wow, that's heavy for me. I'm a fire sign after all and we are not that planned out. Hmmm. I see myself continuing to work very hard and network and hopefully making a living off of it. I see it possibly leading to a real career in design. Maybe someone out there will notice what I do and say wow…she should work for us. Ok that's a bit larger than life but creative visualization really does work. I have index cards taped inside a lot of my closets and cupboards telling me things like 'You will be successful', 'You will have abs of steel' and 'Minimal Dawn will prevail'.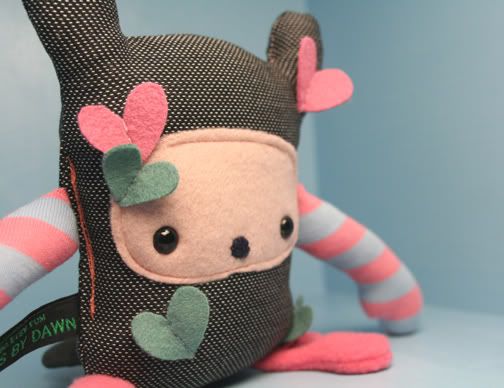 Where do you get your inspiration for your projects?
One of my biggest passions in life is FABRIC!! I am completely obsessed and consumed by fabric. I appreciate fabric that has a vintage and or organic quality to it. Visualizing what each fabric will look like as one of my finished Love=Creatures brings me an immense sense of satisfaction. The entire process from start to finish is very gratifying in a way that is difficult to describe. Like I mentioned above my daughter was and is my biggest inspiration but even before I had her I was obsessed with kids toys especially vintage ones. I have learned that I have strong visual skills and have always been inspired by my environment. I used to ride in the back of the car when I was a kid and make up stories about what I saw out the window while driving that went with the song that was on the car radio. They were like mini movies and my Ma would try and talk to me and I wouldn't even hear her. It definitely explains why I really dig 70's rock. My parents were pretty hip and young. My husband also inspires me to believe in myself and he is always telling me I am amazing. One day soon I may believe him…I hope. I have always wanted to be amazing.




Which of the tools you use is your favorite?
Ok…some of you will disapprove but I love watching T.V. while I sew. Granted sometimes I am only listening but I really like it. If nothing good is on then music is great too but there really is nothing like watching 'Project Runway' and sewing at the same time. So inspirational!!!! I don't have a studio and if I did then things would most likely be a bit different but I have a feeling that my studio would have a T.V. and I would still be watching 'Project Runway' while sewing. I also adore little storage boxes. I love to organize my stuff and re-organize it. I dream of having my own space to create so I don't always have to put everything away everyday and in my space would be hundreds of little storage boxes and shelves with all my stuff right there for me to be inspired by. Wow…that would be so kick butt!!!

What keeps you motivated?
I rarely lack motivation. I always have about 2 hundred ideas swimming around in my head and it is very satisfying to complete one of them and stand back and just smile and be in love with myself for a few minutes. It's really the only time I truly am in love with me. It is sooooo addicting that I can't wait to start the next one so I can be in love with me again. I know that must sound super weird to a lot of people but that's it really. I am also, of course, inspired by what I see on the web, magazine, in life and by what my friends do. Life is very inspiring if you just let it…it will inspire you.

What advice would you give to someone starting a creative business?
Be true to yourself. Do what you love and do it the absolute best you can. Don't give up. Pay attention to the details and strive for perfection. Network with other artists and get yourself out there. It's hard but that's how you get started. Pay attention to what people say about your work. Sometimes feedback can completely change your direction or inspire you to take it to the next level. Sometimes feedback can hurt your feelings but what doesn't kill you will only make you stronger and you work will be that much better because you will feel a strong desire to be the best you can be. It takes time, lots and lots of time so you have to be passionate about whatever you do in order to achieve any level of success even if the success is just personal which I think is the most important kind.


*****

Little Extras


Can you recommend a good book or great music?

I heart T-Rex, Bowie, Nick Drake, Spalding Rockwell, Coldplay,
James Brown, Cat Stevens, Lucinda Williams, Stevie Wonder, Black Eyed
Peas, Pretty Girls Make Graves, The Can't See, Snoop Dog, Jet, Gorillaz,
50 Cent, Zero 7, Phantom Planet, Missy Elliott, Outkast, Joe Walsh,
Eagles, Goldfrapp and well a lot more funk, disco and 70's rock than I
can't think of right now.


As for books…

The Poisonwood Bible

by Barbara Kingsolver,
The Time Traveler's Wife

by Audrey Niffenegger and


Move Your Stuff
Change Your Life

a Feng Shui book by Karen Rauch Carter.


Who is your favorite indie designer/artist?

I don't really have one favorite because I admire so many and they all
do different things. I love Lisa Congdon because she has mad visual
skills and a passion for fabric. She also seems very real and down to
earth to me. I am a huge fan of her work and her blog. Her blog makes me
smile a lot and lets me know it is possible to survive in the world even
if you are a bit off center, which I very much am. I have never met her
but hope to someday. I admire so many more the list is very long....


What is your definition of a perfect day?

Wake up early, do aerobics, walk dog, play with my daughter, go to the
fabric store, shop for some clothing and visit the art store. House is
magically clean but still must vacuum. I love to vacuum. Have a
wonderful dinner with my husband while my Ma watches our darling and fit
in some time for sewing and time for my husband…kiss my daughter while
she is sleeping…….then maybe fly off to the Marimekko factory in
Helsinki and be offered a job to design fabric. "Hey family looks like
we are moving to Helsinki"…. Ok so I got a bit delusional at the end of
the day…it happens. Did you see how many things I did????


What's on your nightstand?

Sadly there is no room for a nightstand in our small bedroom.
If I had one…
My favorite plush of the moment, a photo of my daughter and husband, an
alarm clock (or I will never get up), a pair of brass bird earrings and
one of my many blank books that I fill with ideas….and someday a
Jonathan Adler ceramic fish…you have to imagine it to make it happen.