Website: Collage Artist
Where are you located? Orlando, FL USA

What do you create?
I create mixed media collages that incorporate paper, paint, pencil and photocopies. I would describe my work as whimsical and colorful.

When and why did you decide to start your business?
I have always been creative, from a very young age, so it was always understood that I would be an artist in some way. When I graduated from college with my BFA I got a job in web site design, I worked at that job for 4 years while building my art business on the side. When I got laid off in 2001 it was a natural next step to segway into working at my art full time.

How did you get the word out when you first started your business?
Through the internet. I love the Internet! It's an amazing tool and I think all artists should realize the power of it. Everything that has come my way in my art business has been because of my web site, teach opportunities, book deals, licensing, illustration jobs etc.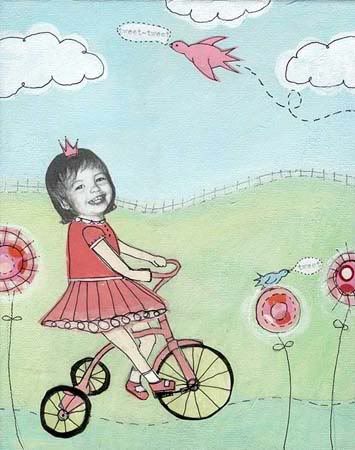 Where do you see your business in 5 years?
In five years I hope to expand further into illustration and also licensing opportunities. I have always wanted to illustrate children's books, so that is a goal that I hope is in my future.

Where do you get inspiration for your projects?
Usually inspirations comes for me when I let go of an end result and start playing with materials. The materials lead me in the direction that they want to go.

You work on many different projects (commissions, classes, books, dvds, etc). Which do you like best?
I like all of the above for different reasons. I love creating commissions, working with other people's photos and their stores is so fun and refreshing. I get a thrill knowing I am making something that will be treasured. The workshops and classes I enjoy for the social aspect and helping others create. The only thing I don't like about the workshops is being away from home and the travel. I hate the travel part. I wish I could just beam myself there. The books have been a joy to create and how exciting to be a published author! I would love to write another book but right now I need to generate some new ideas, it's time to fill the well.

Which of the tools you use is your favorite?
My Gel Medium! I use it to glue papers, and objects. I would be lost without my gel medium! I have even glued my dresser drawers back together with it!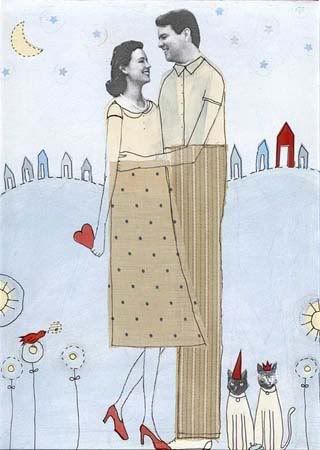 What keeps you motivated?
I hate to say it but I am often motivated by fear. When I was in college I had a teacher that would repeat over and over again "only one in ten of you will still be making art in 10 years" That struck such a chord with me that whenever I go a little span of time without making art I get a little panicky. I never wanted to be the person who once made art and then stopped.

What advice would you give to someone starting a creative business?
I would say to first get a web site, then make sure you train yourself to check your email every day. If someone emails you and then doesn't hear back in a few days they will think you are unreliable. Make sure you are prompt with your emails.

If you weren't creating art or teaching it what would you be doing?
I have no idea! Probably something with animals. I am such an animal crazy person.


Little Extras


Can you recommend a good book or great music?

My fav book is

Me Talk Pretty One Day

by David Sedaris


Who is your favorite indie designer/artist?

Hmmm I don't know! I have so many! Right now I am really excited by the work of Camilla Engman.


What's on your nightstand?

A book: Notes from the Universe
A glass of water
phone
lamp
TIME magazine


Where did you take your last vacation?

Vacation? What's a vacation? Actually, my husband and I went to Italy, I taught a workshop there, so it was a working vacation. We'll be going back to do another workshop in April and we are excited!