Website: Anna Bella Stationery
Where are you located?
The studio is located in Orlando, FL, but we sell nationwide through the web site.

What do you create?
Customized stationery products including pregnancy and birth announcements; shower invitations; holiday invitations; personalized stationery and notes; unique paper items such as Tooth Fairy Kits and Baby Milestone Announcements.

How did you come up with your company name?
The company is named after my daughter, Anna.

When and why did you decide to start your business?
I started my first stationery business in 2001 designing and selling custom wedding invitations direct to consumers through my web site. This evolved into a wholesale business, which I closed in 2005 to focus on licensing. In 2006 I opened Anna Bella selling direct to consumers again while still involved in licensing.

Which is the biggest lesson you've learned from owning your own business?
My first business taught me so much. It was such a complete success, but also such a complete failure. By that, I mean I had no shortage of customers and demand of the product. I had reps all over the country. Marketing was a huge success. But, on the flip side of that, it was rare that my Net30 wholesale customers ever paid me on time. I was lucky to be paid within 60-90 days. I had no working capital to use as a cushion and eventually, I decided to close the business and focus on licensing. The one piece of advice I have for anyone selling wholesale is accept credit cards and stay away from Net30 terms unless you do a full and complete credit check and have strict rules on late payments.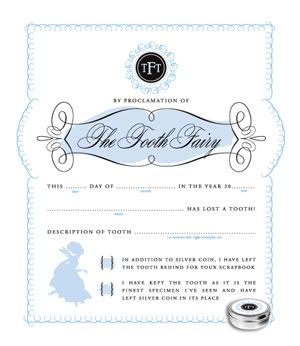 Where do you get inspiration for your projects?
Oh gosh, from so many places. Vintage fabrics are a favorite inspiration - I love looking at old wallpaper and fabric books.

Which of the tools you use is your favorite?
The computer has really become an extension of me - it's what my pencil was to me in art school.

What keeps you motivated?
I have such a love and passion for stationery and really, anything made from paper. I can't explain it - it's just the wholes process of coming up with new designs and patterns and sharing them with others. I get a kick out of knowing that I'm a small part of someone's celebration or that my products inspired someone to write a letter to a long lost pal.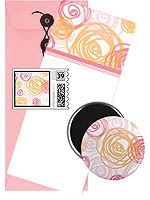 How do you get the word out about your business?
My second company (Anna Bella) was an experiment of sorts. I took all of the lessons learned from my first business and started a brand new company from nothing, zero. No money, nothing. It's been amazing to watch this company grow from nothing. I've spent minimal money on advertising - I've purchased spots for press releases on www.prweb.com. I also tried placing ads on blogs as an experiment. I also invest in pay-per-click for very specific key words. I would say though, 90% of my advertising has been from free editorial coverage. There's no secret to it, anyone can do this as well. You simply send out emails and samples - LOTS of emails and samples. It's super time consuming, but worth the free press.

Where do you see your business in 5 years?
That is a fantastic question! I have absolutely no idea becuase my idea changes all the time. I'm about to introduce wedding invitations again to the collection - which I didn't see myself doing, so it's exciting to be back in that line of business. I'm a contributing editor for She Unlimited and will be doing a lot more podcasting and writing for them, as well as covering local events. And my licensing keeps me pretty busy, too. One thing I do know for sure is that I want to always enjoy creating stationery, so whatever avenue my business takes, it will always be unique and fun.

What advice would you give to someone starting a creative business?
First and foremost, spend as much time as needed to do your research. Know your industry inside and out - whatever industry it may be. Study companies in the same line of business. Find a community of people in your line of business who are willing to answer any questions you may have - there are tons of wonderful communities online!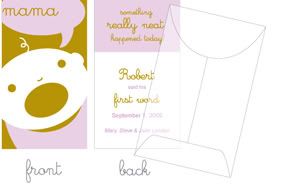 Little Extras
What's your favorite quote?
"Never underestimate the power of a single action", REM
Can you recommend a good book or great music?
The eMyth Revisited

by Michael E. Gerber
The Do-It-Yourself Labotomy

by Tom Monahan
Music? Yes, sign up for Sirius Radio!
Who is your favorite indie designer/artist?
There are so many fellow designers I admire, but here are just a few:
Shades of Violet
Paper Bride
bymichelleb
Collage Artist
Fashion Flair Cards