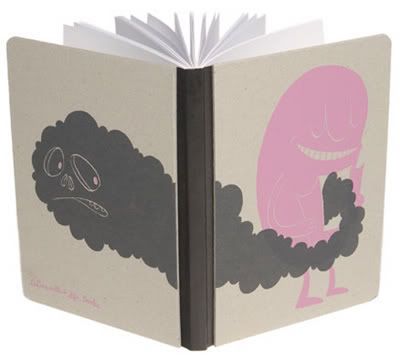 Website:
If'n Books

What do you create?
I create a cavalcade of excitement!! Actually, I make blank journals and photo albums that I primarily wholesale to stores. I pride myself on their uniqueness since I go to great lengths to use materials and illustrations not seen anywhere else. They may not be the safest gift to give your second cousin, but I find they're the perfect fit for just the right person. I recently made my niche market even nichier with my new Cancerpants Journal that comes with the Cancerpants Superfuntime Kit. I'm most excited about that right now.

How did you come up with your company name?
I keep thinking I'll come up with a better story, but really I was reading Faulkner's As I Lay Dying. The southern vernacular of saying something like "If'n you want to go down to the barn..." caught my fancy. I liked the openness and possibility inherent in the word. I have since learned from a customer that there was a song called "If'n" on I Dream of Jeannie. But most people think it's from the Firehose record. So far I'm happy with all associations. Word to the wise though, when choosing your business name, decide how important it is to you to be able to clearly state it over the phone. Sheesh! And with an apostrophe? You gotta be kidding me!

When and why did you decide to start your business?
Well the books don't bind themselves now do they? I had been a program director for a non-profit and a marketing director for a gift gallery but making books was always my thing | bag | raison d'etre. There was quite a hullaballoo when 1999 was turning into the year 2000, and since it occurred with no great catastrophe, I figured then was as good a time as any to create my own hullaballoo. I haven't looked back since - actually I have, but pointing and laughing.

Where do you get your inspiration for your projects?
I try to bring in new products twice a year. I first go to the library and look at design books to get inspired, but they usually end up frustrating me. It's kind of like how I cook. I'll get out a couple cookbooks, flip through them, put them back on the shelf, and end up making something totally different. But the cookbooks were there to get me hungry. Sometimes I work directly with fancypants illustrators and so I get to pawn off some of the work on them for a change. But usually the inspiration ends up being fairly organic, percolating over a few weeks, thinking while I'm working or sitting in bed in the morning.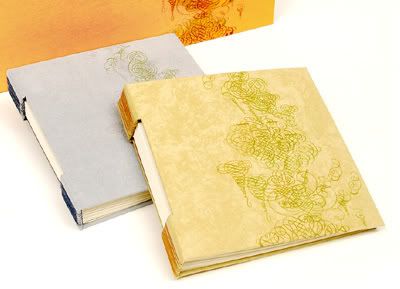 What is your main goal for this year?
1. Go away to a nice place.
2. Make more kooky things for the fun of it.
3. Vote somebody in who's going to give me some freakin' affordable health insurance.

What advice would you give to someone starting a creative business?
Try winning Powerball first. If that doesn't work, then being a little bit crazy with an alarmingly robust work ethic will get you far. Or at least people will talk about you and that's half the battle right there!

Which of the tools you use is your favorite?
This is an exciting question for me since more often I hear talk about amplifiers or guitars which I don't even play. And I'm jealous of all you jewelers out there! Bookbinder talk is a rarity for me! Let's see, I can dork it up with my new teflon 'bone' folder. Or my 31" board shear. Or the rad floor model paper drill/corner rounder that I found sitting in the hallway of my building. But really it always just comes back to my hands which are the most reliable.


*****

Little Extras
Where are you located?
In a ye olde mill building in The Ocean State.
What's your favorite quote?
"All the world is birthday cake, so take a piece but not too much." G. Harrison
Can you recommend a good book or great music?
For work: "Non-Adhesive Binding Vol. I" -
Keith Smith
; "Stay Close" -
Death Vessel
For fun: "Catcher in the Rye" - JD Salinger; "Hidden City of Taurmond" -
Wizardzz
Your favorite indie designer/artist?
The Small Object
(I'm almost certain that lady doesn't
sleep)