What do you create?
I create jewelry, accessories, and a little bit of home decor items. I also create jewelry and accessories for Flamenco dancers.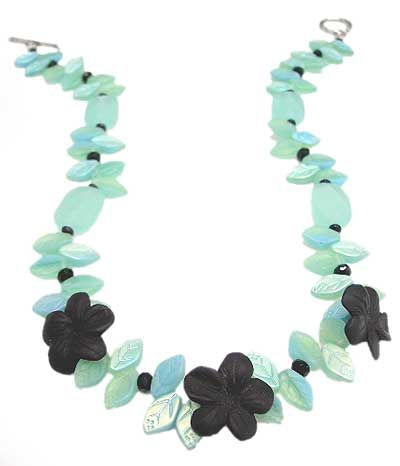 How did you come up with your company name?
When trying to find a name for my company, I noticed that a lot of jewelry designers used their full name as their company name, but I wanted to somehow express that my jewelry and accessories were unique, so I used my last name and "Designs". That was about as creative as I could get at the time.

When and why did you decide to start your business?
My business became official in 2000. My kids were in school, I was making jewelry most of the day because I was crazy in love with doing it and people were noticing. I was making seed bead jewelry and accessories, like cell phone holders and beaded perfume bottles and ceiling fan pulls. I took them, just for the heck of it and to see what kind of response I'd get, to a really fun gallery in Palm Springs, CA and right away got in. I knew then I was on to something. Besides that, I was making jewelry and accessories to match my and other fellow Flamenco dancers dresses. For this, I was also getting a great response.

Where do you get your inspiration for your projects?
I really get inspired by the materials at a bead store or bead show more than anything. I love that moment when I walk in the door after a big bead show buying binge and spreading the beads out on the table and seeing what would works together. I always have a list with me when I go, but never stick to it. I adore combining textures and colors. I am a Flamenco dancer too, so I am always drawn to bold designs and colors. My inspirations for my jewelry change frequently as you can tell by my jewelry designs which are always different.





What is your main goal for this year?
I want to get my jewelry into more brick and mortar shops and boutiques. That's my main goal. But first I really need to find the best way to show a possible wholesale account my line. Because it's mostly one-of-a-kind and limited edition, it's really difficult to have a line sheet with photos especially for out of state accounts where they are not seeing the jewelry in person. At least that's my experience. I've been pretty good at bringing in my jewelry to a shop and showing them but because there has been so many different pieces, I think shop owners were getting a little overwhelmed. I just started with collections this Spring. By organizing the jewelry into groups it makes that part of the display a little easier to understand.

What advice would you give to someone starting a creative business?
I think it's important to find a niche. There are so many crafters out there that you need to find a way to stand out. Think of a box of donuts. Why did you pick that one particular donut? They are all donuts in that box.

And just out of curiosity, what's your favorite tool of your trade?
Oddly enough, I love the surface I work on. I have this piece of scrap soft brown leather I found in a remnants shop when I first started beading. It's perfect. The beads don't roll off of it. When I'm done with a project for the day, I just roll it up burrito style with my project and tools inside. It's portable. I can take it to any table to do my work.

Site:
Bonnin Designs